Circadian Rhythm:
Finding Your Flow & Discovering Your Best Self

If you often find yourself reaching for that third or fourth cup of coffee before the clock hits noon, frequently craving a nice snooze right after lunch, or find yourself struggling to fall asleep at night, then you may have an out of balance circadian rhythm to thank.

Our Circadian Rhythm is defined as "a biological process that most organisms follow through a 24-hour cycle of wakefulness and sleepiness." The highest levels of action, focus, and productivity require the equal opposite of restfulness, calm, and restoration; the yin and the yang. The human body picks up cues from the earth's natural light, or lack thereof. During the day, the sun signals to the body that it is time to wake up. During the night, when the sun goes down, the body is signaled to sleep. So, if you find yourself struggling to make it past the afternoons, or unable to fall asleep most nights, then it may be time to take a look at what could be throwing off your circadian rhythm.

The modern world's impact on our sleep.

In our modern world, potential for sleep disruption lurks everywhere. For thousands of years, the sun was our only source of light, and humans followed a natural day-night cycle. A shift began to occur approximately 150 years ago, when electric lighting was invented. In recent years alone, our exposure to artificial light has increased significantly, with technology being the top culprit in the disruption of our sleep as the average adult spends over 11 hours a day in front of a screen; that's up from 9 hours and 32 minutes just 4 years ago."However, light and technology have not been the sole influencers when it comes to our circadian rhythms.

Many other factors can also play a role in the quality and quantity of our sleep, such as stress, noise, lighting, stress, illness, medications, and even genetics.

How research is connecting circadian rhythm and disease.

"In recent years, research has revealed that the circadian rhythm does not solely control the sleep-wake cycles in humans, but that it affects us more deeply, down to our cells and organ systems." - NCBI

"In the last few years, research has also provided evidence that points to connections between disrupted circadian rhythms and various clinical disorders. The clinical evidence suggests that if the circadian rhythm has been disrupted in mice or men, metabolic syndrome and obesity, premature aging, diabetes, cardiac arrhythmias, immune deficiencies, hypertension and abnormal sleep cycles develop." - NCBI


A 2019 study showed the effects of circadian rhythms disturbances on health. There was an inverse relationship between cognition and sleep deprivation, a direct relationship between risk of cardiovascular injury and sleep deprivation, a direct relationship between poor mental health and sleep deprivation, and a direct relationship between poor neurological health and sleep deprivation.

How you can support your circadian rhythm.

Drugs and supplements can only do so much for our system.

One research study took a look at the connection between sleep, metabolism, and circadian rhythms and concluded that the circadian system is tightly tied with processes controlling sleep and metabolism. Disruptions of the internal clock or metabolism can lead to derangement of the other, consequently predisposing to metabolic disorders like obesity and type 2 diabetes.

Integration of circadian homeostasis with eating patterns and the microbiota. Abbreviation: SCFA, short-chain fatty acids.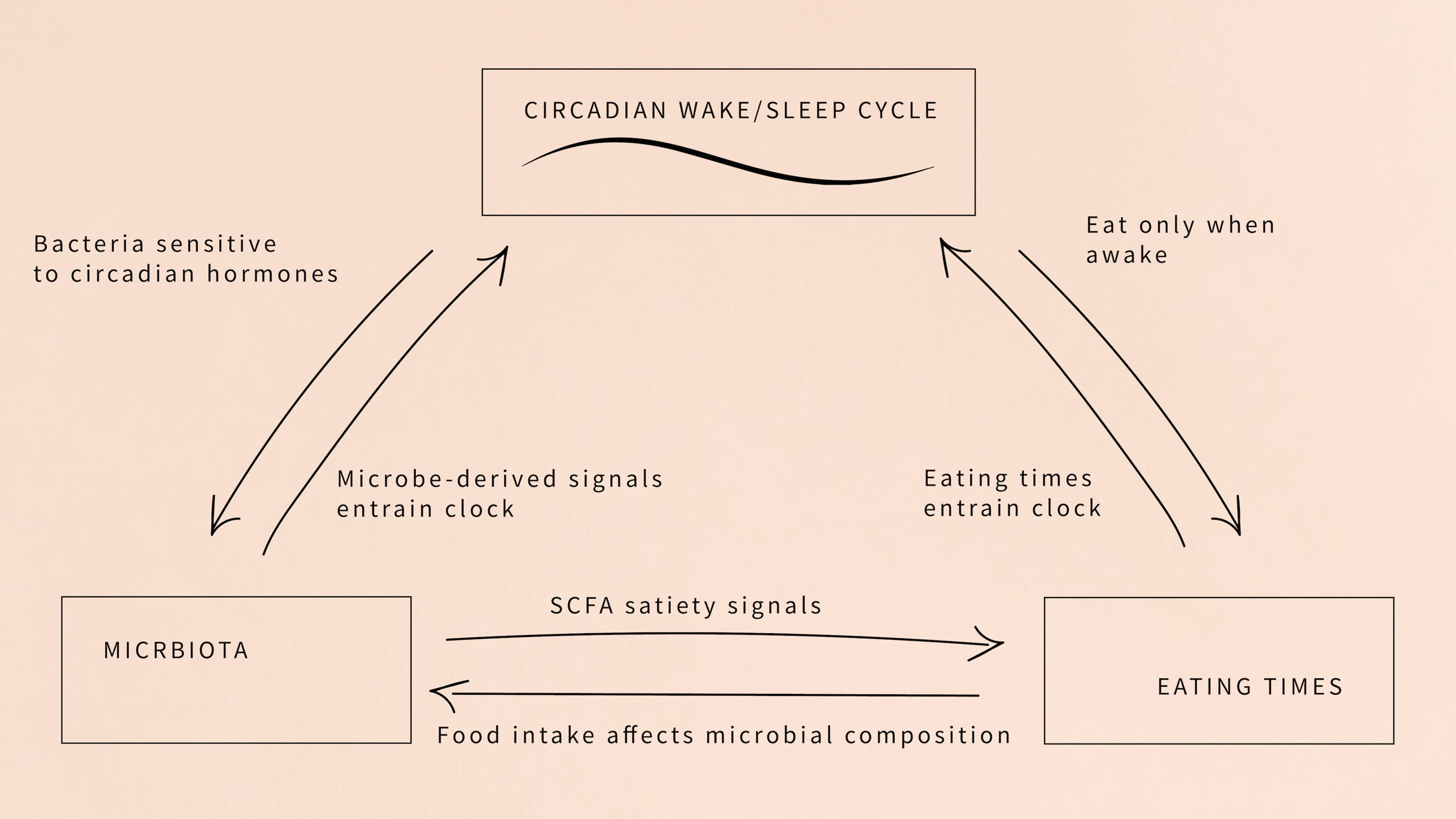 Aneu Apothecary has launched a new supplement duo to help people refine their circadian rhythm with deeper sleep and more productive days. They use a combination of bioactive vitamins, clinically studied compounds, and traditional Chinese and Ayurvedic herbs, and medicinal mushrooms to gently deepen rest and recovery during sleep, and improve daytime energy, mood, and focus to enhance productivity. Visit aneu.com to experience these products for yourself and give yourself a fresh start, or as we like to say, begin Aneu.